Situation:
A major Engineering design and consulting company (Aker Kvaerner) required a dust suppression system for the primary crusher and conveyor transfer points of the Bosphorus Nickel Project in Turkey.
Problem:
The system had to be complete and simple to use. It had to be installed, adjusted, and maintained with the minimum of technical assistance.
Solution: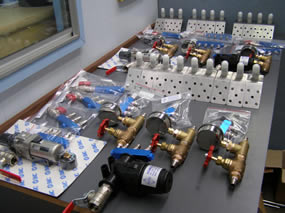 Tecpro Australia suggested the PNR Ultrasonic Air Atomising nozzles to produce a dry fog of very fine droplets. Despite their sophisticated design, these nozzles are very easy to set-up and adjust.
Tecpro Australia designed and supplied the complete system, including specially manufactured mounting brackets, connecting fittings, tubing, valves, gauges, filters and assembly drawings. The entire system was unpacked and easily installed on site.
Posted on 06-May-2015